Pet Hair Cleaning
Back To Our Services
Keeping pets as well as expensive upholstery can be quite challenging. Cats and dogs will always be attracted to rugs, thick carpets and your comfortable couch not matter how precious they are. Cleaning items like oriental rugs can be a very touchy affair. You cannot scrub them too hard or the weave could be damaged. You could also find that no matter how much you run your vacuum cleaner over them, there are always swarms of stubborn hairs that refuse to separate from the material. We can ensure you carpets, soft chairs and fabric couch are all made almost completely hair free. All of our professional cleaners have a wealth of experience removing all types of strand from pretty much any kind of household upholstery.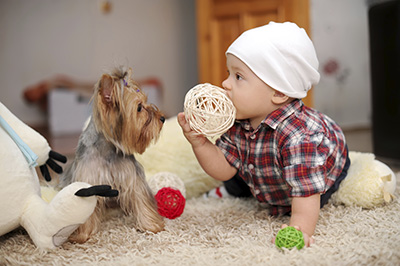 Hidden Hair within Fabric
Most forms of pet hair are very thin and some can be curly in nature. This allows the stand to penetrate the weave of materials as well as wrap around them. For successful pet hair cleaning to take place, you have to apply solutions that dislodge the hair with the capability to extract it. No method can ever guarantee a 100% complete removal of all pet hair. But with our expertise and thorough techniques, we can promise to remove as much as 99% of it. Thick items will give you the most trouble. This is what makes couches so tough. They have many surfaces with thick padding that acts a sponge. Hairs can penetrate the surface of the fabric and then continue to embed themselves within the cushioning of the furniture. Here they will sit until unleashed by the correct movement that exposes them. This can mean no matter how much you go over a particular chair or piece of upholstery in your house, more hairs tend to continue to disperse from them.
Pet Hair Cleaning Techniques
When it comes to cleaning pet hair, variation and thoroughness is key. We have a range of methods that can be applied to different circumstances. The effectiveness of each will depend on the type of hair, fabric and shape of the object being cleaned. We have warm water extraction vacuums as well as straight standing dry vacuums that offer incredible strength while being perfectly safe to use on all types of fabric. On arrival, our technician will be able to analyze your particular hair mess situation, and then identify the most effective options that are available to you.